---

På svenska
Welcome to Louie's Pumpkin Patch!
Wecome back next year for a new growing season
See below for pictures from this year's Harvest Festival
NOTE! Unsold pumpkins from the Harvest Festival can be found at
Grower Profile from Johnny's Selected Seeds
---
Harvest Festival at Rörs Bygdegård Hall - 2016
September 24 - 25, 2016
Click here to see pictures from the harvest festival 2016
Harvest Festival at Rörs Bygdegård Hall - 2015
September 26 - 27, 2015
Click here to see pictures from the harvest festival 2015
Harvest Festival at Rörs Bygdegård Hall - 2014
September 27 - 28, 2014
Click here to see pictures from the harvest festival 2014
Harvest Festival at Rörs Bygdegård Hall - 2013
Click here to see pictures from the harvest festival 2013
Harvest Festival at Rörs Bygdegård Hall - 2011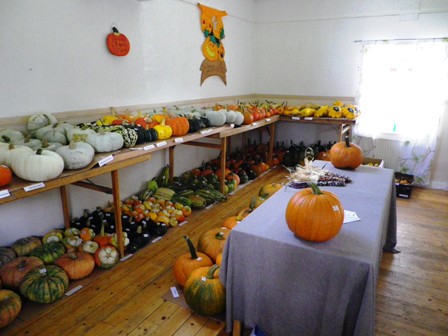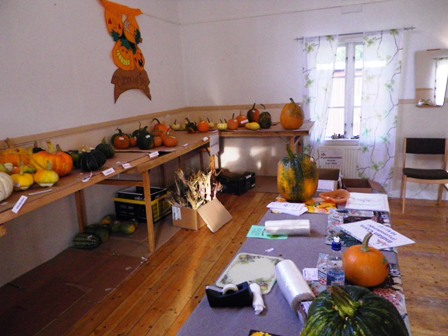 Before After
---
Check out the new C. pepo varieties found in the patch in 2011
Check out the new C. maxima variety found in the patch in 2011
---
This is what it looked like 2010!
Come take a look at my hobby.
---
---

We visited Inger Johanne and Arne Ulfeng in Fredrikstad, Norway. They recently published a book about pumpkins and squash with good recipes and wonderful pictures. It is only in Norwegian, but if you're interested, contact them at arneulfeng@gmail.com or visit "Gresskarfarmen" (pumpkin patch in Norwegian).
---
Seeds of many of the cultivars of squash and pumpkins shown on Louie's Pumpkin Patch homepage are available from
Semenco AB

Please make your request to:

Charlotte Carrwik
Semenco AB
Brovallavägen 105
SE-261 76 Asmundtorp, Sweden.

E-mail charlotte.carrwik@semenco.se
Phone: +46 418 490453
Fax: + 418 431852
Mobile phone: +46 708 670 941
---
Read about pumpkin history here .
Read about pumpkin fun facts and trivia here.
---
In Sweden we plant after risk for frost, usually around May 15. Check what Johnny's Selected Seeds recommends for pumpkins and winter squash.
---
Our Mission:
Our goal is to introduce pumpkins and squash into Swedish cuisine. This is done by growing, demonstrating, and exhibiting many different varieties of pumpkins and squash.
---
Profile
–

Louis Lehmann:

A little about myself


My hobby is growing squash and pumpkins. I'm an American who brought this hobby with me to Sweden, along with my wife Myra and daughter Kassie some 38 years ago. By profession I am a plant breeder working mainly with cereals. In 2001 I had more than 150 different varieties, which I have received from all over the world. I have been having trials here in Sweden for the past 36 years.

These trials have been mainly for selecting early types that do well here. It is also very interesting to see the variation occurring in Cucurbita. A friend and I have also been trying for several years to introduce various types of summer squash, winter squash, and pumpkins into the Swedish diet (this has been going very slowly). We've also been trying to get more farmers and households to grow a larger variety of squashes and pumpkins. Halloween has become very popular here the last few years. My main interest has however been in edible types.


I began my interest for pumpkins in 4H in California as a kid.

See the

Progress Reports which were sent to participating seed suppliers.

See

Where is Sweden? This is a paper presented at the "Cucurbitaceae 2000" held in Israel March 19-23, 2000. This describes some of our work and results.

Available only in Swedish (endast på svenska):
I have also written an article published in the Journal of the Swedish Seed Association, Vol 3:97-107. There are several pictures of me and my pumpkins, along with information about the varieties of Cucurbita that can be grown in Sweden. There are tips on how to grow pumpkins as well as how to use them, including several delicious recipes. The nutritional values of different varities of pumpkins and squash are compared to other vegetables.

Cucurbita i Sverige och världen.

Baby food:

Our granddaughter thinks Grandpa's grey winter squash developed in New Zealand by Hybrid Seed Company New Zealand Ltd (www.hybridseed.co.nz) is very sweet. Notice that her dish is empty and she is showing off her two new front teeth. Her bib says, "I love Grandpa".

After cooking, mix in blender until smooth. Add nothing -- it is already sweet and full of vitamin A.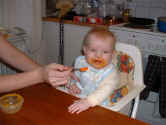 ---
Contact information
E-mail
Web administrator:

Download as a pdf-file:
(Print and fold)
Send e-mail to
with questions or comments about this home page.
Updated: 2015-10-23